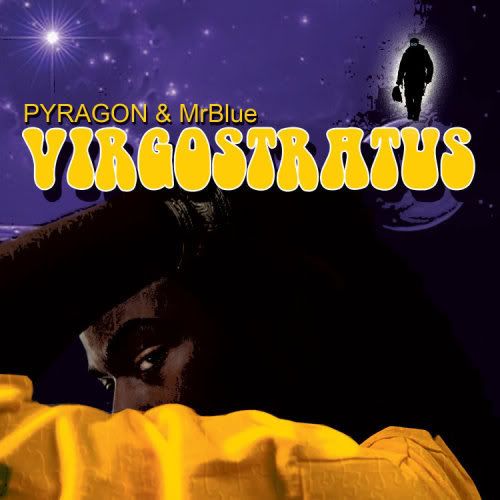 World domination has begun. I don't know why I'm hearing some laughing in the front row? That statement is not a joke, but a fact. Yes my friends after a long awaited release, the Pyragon And MrBlue LP "Virgostratus" is officially available world wide.

For those of you (most of you) who don't know the history behind this album here is the story, cleverly narrated in third person:
It was September of 2006

.
The immediate connection was evident between Pyragon and MrBlue... And at that exact time a prediction was manifested. Having encountered each other on the web, the hurdle of time and space presented its rebuttal from day one. To the average mind this proposal would seem ludicrous, but to Pyragon and MrBlue it was merely a single challenge...facing two Virgos.
The odds looked good from the jump off

.
Over the next several months they spent countless hours exploiting every avenue of communication possible; Pyragon in D.C., and MrBlue in Toronto. With each phone call a new brick was set into the foundation, and with every lyric written or beat composed the message was becoming more and more vivid.
They met for a reason

.
In July of 2007 the brotherhood was made official when Pyragon arrived in Toronto and for the next 5 days they lived and slept in Blue's studio. The experience was like two long lost brothers reuniting for a game of chess, and with the ease and grace that only veterans could possess, Virgostratus was born.
Checkmate

.


If you would like to listen to and purchase a download copy of the Virgostratus LP please click on the title of this post, or the album cover posted above and you will be directed to the land of Pyragon And MrBlue.

Respect.

MrBlue
www.myspace.com/basementtheory